Gutters for Sale in Geneva, IL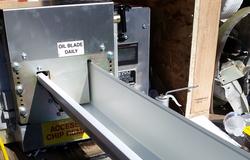 Imperial Gutters uses state-of-the-art equipment that manufactures custom K-style gutters for your home or commercial building on site.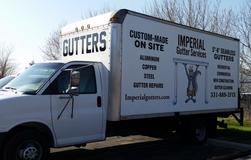 Imperial Gutter Services is a family-owned and operated business. We focus on one job at a time to give our customers the best service we can. We pride ourselves on our referral business from satisfied and happy customers.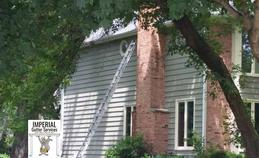 New Gutter Manufacture and Install

One-Time Gutter Cleaning and Repair

Gutter Cover/Gutter Guard Installation

New Gutter Manufacturing (DIY Installation)​

Deck Power Wash & Refinishing
Serving The Fox Valley Area and The Tri-Cities (Geneva, Batavia, Saint Charles)
Kane County & Western DuPage County.
Gutter Company St. Charles, IL
Welcome to Imperial Gutter Services, a family-owned and operated gutter company in St. Charles, Illinois. Our gutters are custom-made to move the rain! We professionally install some of the best gutter systems in the area. Our gutters are custom-made and on-site to protect your home or business fully! We feature all types of gutters needed for your gutter installation. We not only install gutters in St. Charles, Illinois, but we also work in the Tri-City area, Kane County, and Western DuPage County. Imperial Gutter Services offers gutter replacement services and repairs to your existing gutters and gutter system. We can also professionally flush and clean your gutter system to keep the rain moving.
We strive to give you the best customer service and the best job possible. When you think of gutter companies in St. Charles, IL, we want you to consider us first.
Imperial Gutter Services stands behind their work. Imperial Gutters only uses the best materials from high-quality manufacturers you know and trust. Imperial Gutter Services offers honest, up-front pricing with NO hidden fees. Each of our gutter technicians are insured, and together, they have numerous years of combined experience in gutter installation, gutter maintenance, gutter repair, gutter cleaning, and gutter protection!
Imperial Gutters is the only gutter company in St. Charles that you will need to call for any and all of your gutter needs!
At Imperial Gutters, we install many types of gutter systems and have many custom colors to offer in our K-style gutters.
We custom make and install seamless gutters. We can manufacture copper gutters, aluminum gutters, and steel gutters. Our beautiful, seamless, K-style gutters are what you need to protect your home or building. Imperial Gutter Services will bring samples to your home or business and help you select the best color for your gutters. As always, our estimates are free!
Once you've made your decision, our installation of your gutters is expert and courteous—we measure, manufacture, and cut the gutters on-site, perform your installation and clean our way out. We make sure we leave no trace of debris behind when the job is done.
What if your gutters just need a little bit of repair?
Our professional St. Charles IL gutter repair keeps your existing gutters sturdy and clear and the rain flowing away from your investment. If your gutters still have a lot of life in them but have incurred damage from deferred maintenance or storm damage or any other damage (brother-in-law crushing gutter with big moving truck?), we have seen it and can help! Our repair solutions will have your gutters looking like new again and properly flowing in no time.
Imperial Gutter Services can also repair or replace your downspouts. Did you run over your downspout with the mower? Did the neighbor's kid crush the spout while playing hockey in your driveway? We have seen it and can fix it. No job is too small. Imperial Gutter Services can replace your damaged spouts.
Gutter Maintenance, Gutter Guards, and Gutter Covers
Imperial Gutters offers a one-time cleaning or an ongoing gutter maintenance program to keep your roof and foundation properly protected and your gutter system functioning at its best. Cleaning your gutters is not fun, but having clear gutters is necessary to protect your home or business.
Imperial Gutter Service can install gutter guards on your new gutter system and over your existing gutters, as long as they are in good repair. Imperial Gutter Services installs a variety of different guards. These gutter covers and/or gutter screens help filter out debris and reduce the amount of maintenance you need in order for your gutter to work efficiently every year!  
As you can see, if there's something your gutter system desperately needs, Imperial Gutters has you covered!
What if your gutters just need cleaning? That's a big hassle, not to mention very dangerous.
Let's face it; no one likes to clean their gutters.
Our gutter cleaning service can put some time back into your busy schedule and keep you safe by cleaning the gutters for you. Our gutter cleaning will help keep your gutters functioning for years without needing replacement.
Remember: our gutter technicians can also install mechanisms that can help shield your gutters from leaves and other debris like gutter guards and screens. We have you cleaned and covered!
Cut and Drop Service for the Do-It-Yourself Homeowner
Imperial Gutter Services will come to your job site, measure and custom make your gutters, including all necessary hardware such as hangers, downspouts, screws, etc., and leave them on your site. The DIY homeowner can install them themselves.  
Imperial Gutter Services installs gutters and cleans gutters, and we also offer power washing in St. Charles, Illinois and the surrounding areas, as well as other exterior detailing services to ensure your home or business always looks its best! Make sure to ask us about pressure washing when you call! Have the exterior of your home, concrete patio, deck, or driveway power washed to keep it looking clean all year long.
As a small, family-owned and operated gutter company in St. Charles, Illinois, here are a few reasons you should choose us.
Our technicians are fully insured and receive continued training to do the best job for your gutter installation every time. This means you have some of the best gutter experts in the area working on your home.
We also provide you with the best service at the best cost for all your gutter needs. We handle complete gutter installation, repair of your existing gutters, and gutter maintenance to ensure your gutter system is fully functional.
Imperial Gutters also offers the installation of many types of gutter guards that you would need to maintain the health of your gutters and your gutter system. We do this all with cost and quality in mind.
Please consider making Imperial Gutters your gutter company of choice.
Call us today for your free estimate. We would love to hear from you!!! (331) 888-2349.
Don't let your gutters drive you nuts!
Choose Imperial Gutters For Gutter Utopia!
Choose Imperial Gutter Services for your next seamless gutter job, gutter cleaning, gutter repair, or your next eco-friendly pressure washing job, and you can trust the experts at Imperial Gutters. Please call us today for a free estimate, and don't let your gutters drive you nuts!
What Customers Say About Us