Gutter Installation In St. Charles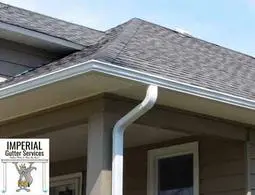 Trust Imperial Gutter Services for all of your gutter needs.
Imperial Gutters is a small, family-owned, and operated business. We strive to give you the best job possible and stand behind our work. We only use high-quality materials from the best manufacturers. We will bring samples to your home or business for you to choose from. We can also advise you on coordinating colors as well. We always offer free estimates, stand behind our work and our technicians are fully insured.
Don't let your gutters drive you nuts! The best thing you can do to keep your gutter system working and flowing properly is to ensure your gutters are free of debris. It's always recommended to clean your gutters in the spring and then again in the fall unless your gutter system is protected by gutter covers/guards.
Your downspouts must have a good flow. If your downspouts are clogged, they can cause damage to your gutter system and cause water backup and overflow. This will then cause damage to your home, foundation, and even your basement and landscaping. Keeping your downspouts and gutters cleaned will protect your investment in your home and will increase your gutter system's longevity.
Contact us about our maintenance plans and gutter covers/gutter protection to help in the prevention of system failure.
If you need an entire home or building installed with a new gutter system, or you just need "one run" of gutter, we can do that! No job is too small.